Tide Pools at Sunset Cliffs
California, 2017
California's coastal sunsets are an artist's dream. As a Midwesterner, anytime I'm near the Pacific I run towards its thunderous hugs and salt kissed airs.
I discovered this composition among the many pockets of tide pools along San Diego's coastline and settled in for sunset. Witnessing the sun shrink as an amber glow beneath horizon as the tide ebb and flowed connected me with the pulse of the universe— a cynical unity of time marked by the grace of nature.
Lone Torrey Pine
California, 2017
The critically endangered Torrey pine is unique to San Diego's northern coastline. While hiking the reserve, this particular tree stood out to me due to its forward leaning stance resilient to the test of time.
My Shadow and I
California, 2017
Joshua Tree National Park is a big draw in the rock climbing community and looking closely you'll find climbers' rope across the face of the big rock. In the foreground, a pinyon pine tree splits a granite boulder in half.
This piece speaks to me of overcoming one's fears, shadows that haunt and accompany us threatening the most on the brightest of days. These forces are not conquered overnight but rather one deliberate crack and growth spurt at a time.
Ghost in a Granite Landscape
California, 2017
This landscape had a visitor who refused to leave my frame so I captured her.
Now I'll remember this stranger as a ghost left to fade in my aging memory, forever wandering the granite steps of the Mojave desert.
First Light at the Badlands
South Dakota, 2017
The rugged, jagged terrain of the Badlands reveals layers upon layers of history recorded in sedimentary strata. When the sun is near the horizon these layers glow hues hidden during other hours of the day.
Many people disregard the Badlands as an ugly, boring collection of pale earth mounds. This landscape loses its depth, color, and flattens when the sun is overhead. However, witnessing these formations during the extremes of day delights with an amphitheater of reflected light that sings like a songbird at dawn.
Thunderstorm Over Colored Mounds
South Dakota, 2017
There are times when staying in bed makes the most sense, especially during an onslaught of thunderstorms after a full day of hiking. Then you look out the window and see a promising break in the clouds an hour before sunset, rush with your gear into the car, and gasp as you chase a rainbow hanging on to the last drips of light at the horizon.
If only the light and clouds will hold until I get there...
The colored mounds region of Badlands National Park is famous for the otherworldly sediment hues that appear richly saturated after a rainstorm. I had scouted the area the day before and knew I had to get there— now. Daylight was vanishing. I had no idea if the rainbow I wildly chased into the park would all of a sudden disappear before I arrived at the colored mounds.
And there it was, centerstage.
Wow. Beautiful serendipity.
Morning Fog Over Sprague Lake
Colorado, 2017
A silver blanket of fog rolled in on this summer morning right at alpenglow framing the Colorado Rockies over Sprague Lake. Just a few moments later the fog completely covered the mountains and the shot was lost.
Nature offers scenes that can be notoriously ephemeral. I find peace when I'm reminded that nature's rhythms are more important than me walking away with a perfect exposure. It gives me perspective and grounds me.
Evening at Nymph Lake
Colorado, 2017
The mirror surface of this calm, alpine lake married sky and land with a blue harmony that peacefully concluded my first visit to Rocky Mountain National Park.
I say this while fully aware that I've never been surrounded and trampled upon by so many mosquitoes while working in the field.
Nevertheless, it became clear to me then and now that the unfolding beauty of a landscape is much more powerful and permanent than a few itchy, bug bites!
Hallett Peak from Dream Lake
Colorado, 2017
I overestimated my ability to take on this hike before sunrise. I mean there's nothing extraordinary with getting out of bed for a 4am hike except the part where you're hiking at high elevation with a ton of camera gear and tripod strapped to your back on a measly breakfast of one granola bar.
Hallet Peak is one of my favorites for its cleanly defined profile and Dream Lake was definitely worth the morning hike up. But, I'll never forget meeting the photographer who had arrived on location even earlier than me while 8 months pregnant.
I had nothing on her— that's strength!
Saguaro of the Superstition Mountains
Arizona, 2018
At times, a clear vision of a landscape comes together long before encountering it. I imagined the western face of the Superstition Mountains with an orange glow at sunset and saguaro cacti in the foreground would make for a classic composition. What I didn't expect were purple clouds hugging the mountains at just the right sunset moment and, simultaneously, my car being towed by a park ranger but that's another story for another time...
Lucid Dream
Arizona, 2018
How do you capture the beauty of a slot canyon with its swirling walls and wind blasted sandstone in a way that faithfully recalls the dance of sunlight and the dynamic range of hues present one moment and invisible the next?
My first photograph ever of a slot canyon delivered this lucid dream.
Vermillion Glow
Arizona, 2018
Along the Arizona - Utah border hides a pocket of land nestled in the Vermillion Cliffs National Monument. The landscape is alien and wild, unlike anywhere else, and on occasion you'll find a cow or two passing through from nearby pastures!
Moonlight illuminates this scene and lights aglow the pinkish-red hues against the backdrop of a starry night.
Canyon Pulse
Cielo Pescado
Corazón de la Ventana
Familia Saguaro
Grand Confluence
Light and Shadows de Chelley
Mi Saguaro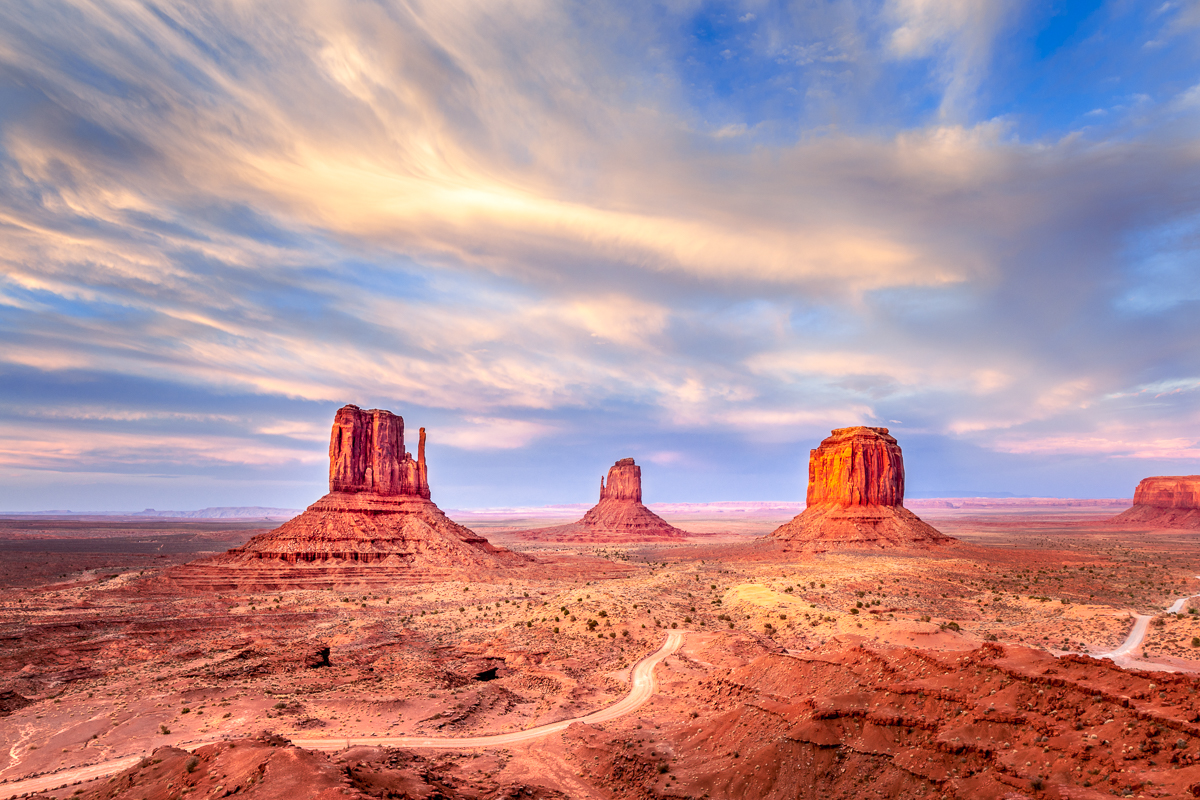 Monument Valley Light Study No. 1
Monument Valley Light Study No. 2
Neon Hoodoo
The Ancients of Bisti
White Pocket Flames
Lavender Canyon
Slot Impulse
Star Windmill
Horseshoe Sunset
Landscapes